Develop Your People – Enhance Your Company's Success
Ibeschitz M. (2018): Impact: Develop Your People – Enhance Your Company's Success, Wiley-VCH Verlag, ISBN 978-3527509669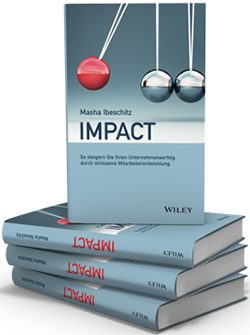 The Book
In this book Masha Ibeschitz, reflection guide and coach, shows executives and entrepreneurs how they can sustainably increase their business success through employee development. This informative and entertaining guide is a must have for anyone who is interested in employee development in our fast changing VUCA world.
Employee development isn't magic. With a few coaching fundamentals, which any executive can easily learn from this book, it is possible to develop employees into top performers who will effectively contribute to the business success of their company. In her book, Masha Ibeschitz, shows how coaching works in day-to-day business. Her book is not only meant for consultants or professional coaches, but for anyone who wants to practice agile leadership and give employees positive and effective guidance.
10 Chapters
In 10 chapters, Impact sheds light on how coaching tools can be used to develop employees' potential. It answers questions such as:
What is the value of coaching discussions?
What exactly is coaching?
What occasions are appropriate for coaching?
Who is coachable?
How does a coach trigger a solution?
How does a coach make astute use of different types of questions?
The starting point is always a story from the author's own coaching experience, anonymized and altered to disguise real-life details. The take-aways relevant to the topic of each chapter are presented as briefly as possible and as extensively as necessary; info boxes provide a quick overview of specific concepts. Each chapter concludes with a summary of key points.
Your Copy
GET YOUR OWN COPY OF THE BOOK HERE: www.amazon…